Android powered mobiles may be a pain for iPhone thanks to full Flash support. Since Flash (also) means games, obviously the biggest portals are releasing a mobile version, specifically developed for Android mobiles.
I surfed a lot on the web and I only found three portals that really caught my attention… I also noticed that only a few of the big names already have a mobile version.
Anyway, I thougth these three sites can give you the inspiration to create your own Android Flash games portal.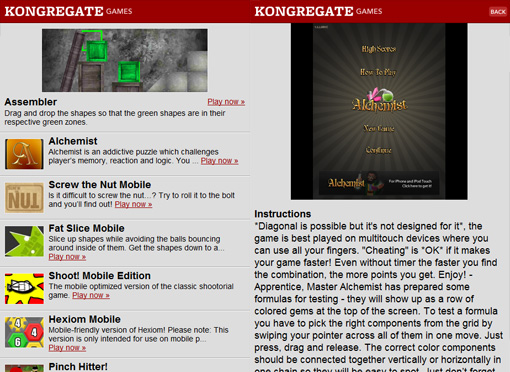 Let's say what they have in common
* All URLs begin with a "m" as second-level domain name.
* Mochi Games and Armor Games invite the player to tap the game to play fullscreen
* Mochi Games and Kongregate use an hover effect on the main menu
* Armor Games and Kongregate display game instructions in the same page of the game (when not playing fullscreen), below the game
* All portals have a link to the full standard site
* None of them have an ad. How are they planning to monetize the mobile version?
* Kongregate and Armor Games have the right mobile doctype <!DOCTYPE html PUBLIC "-//WAPFORUM//DTD XHTML Mobile 1.0//EN" "http://www.wapforum.org/DTD/xhtml-mobile10.dtd">
* All portals embed the games with a simple object tag, without any dedicated script
* All (as far as I can see) Mochi and Kongregate games size their games to 320×320, while Armor games uses up to 480×480
How would you design a mobile games portal? Write your suggestions and I'll try to make a decent template, maybe using WordPress… who knows…