If you are a loyal reader (and actually you should be!) you know the successful stories of Flash niche gaming portals with two million visitors/month or the Solitaire portal with 25K visitors/day.
Another great example of fast growth and success is ebog.com that managed in a few months to become one of the largest online game sites
So I said "ok, I am making my own niche portal too" and this is the story of my portal.
To tell the truth, there isn't any story because I am starting building it today, but I want to share with you my experience in real time, showing you my successes, mistakes and hopefully the way to bring it to success.
These are the steps I made until now:
1) Choosing the niche
Since I love puzzle games, I am building a Flash puzzle games portal. What's the difference between my puzzle site and the rest? Well, I want to let people play a selection of the hardest puzzles ever. Just like when I was playing on my Commodore 64 and solving a level could take up to a week.
2) Choosing a domain name
I bought puzzlegames.com which wasn't taken… no, I didn't. Obviously the most interesting .com domain names are already taken and I did not want any .net or .biz, and this forced me to find a creative name… until I took meltingbrain.com
I like the name, and that's what happens when you play puzzle games for too long.
3) The portal itself
I wanted to create a WordPress gaming site but I also wanted to try something different than my Triqui theme and plugin so I moved on MyArcadePlugin PRO which is really rich of features and whose author, Daniel, is always fixing and updating it.
Let me show you how it works. First, you selected the categories you are interested in:
Then you can fetch games from a selection of the biggest gaming portals
Now it's time to play them and decide whether they can fit in your portal or not
And what if you want a game you can't find in game feeds? MyArcadePlugin lets you import files and create entries manually
Finally, you can edit game description, thumbnail and so on
And this is the raw result after adding a bunch of games: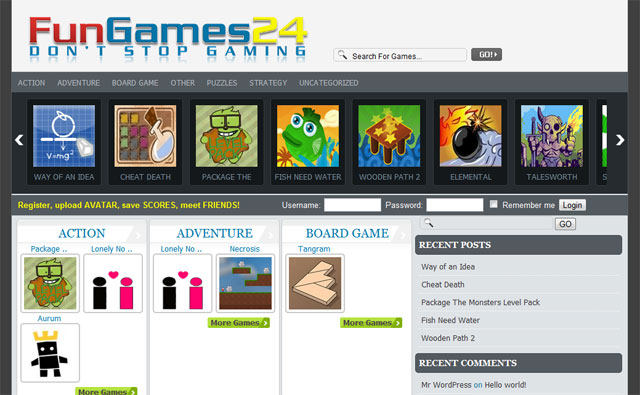 With some games already in the site, I needed do think about the design.
4) The logo
For the logo I decided to try fiverr which claims you can have everything at $5. So I got in touch with one of the top sellers saying:
"Hello, the logo is for a Flash Arcade site with a lot of puzzle games called Melting Brain, the logo should represent a stylized video-game player whose brain is melting because the game is too hard for him. It should have a cartoonish feeling, something like this but less terrific and with something which reminds the guy was playing a game
http://www.garthbigelow.com/images/Brain-fire.jpg
Thank you"
And after three hours, thanks to a "give me priority" purchase for a grand total of $20, that's what I got:
Not quite sure if that's what I want, but at the moment my portal has a logo, now let me play a bit with the theme and the logo and I'll write an update very soon.