Some days ago I blogged about my way from zero to a successful Flash arcade site and during these days I spent some time looking for the best combination of theme and plugin to convert a WordPress theme into an arcade solution.
You already know I am using MyArcadePlugin to fetch, manage and import games from various portals, so this time I am talking about the theme.
First, have a look at Melting Brain and play to a couple of games to navigate through the site. It looks quite awesome, doesn't it?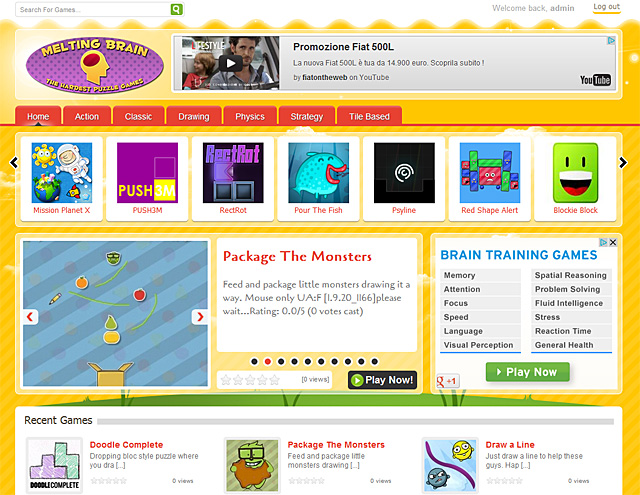 Well, this is just the basic version of BrayGames theme for MyArcadePlugin. And when I say "basic version" I mean I did not dive into the thousands of settings, featuring five different skins, front page games, carousel, sliders, dynamic sidebars, custom widget and a lot more!
Another example of a site built on myarcadeplugin is 2playergames.co. Looks like i am not the only one arent I?
I will talk about later this week of BrayGames, meanwhile I would like to talk about my experience with Fiverr for the logo design.
After a reader told me the main character of the logo was ripped off by a Grand Theft Auto cartoon, I googled a bit and I found it was part of a collection of cliparts I did not even know if I had the license to use, so I left a negative feedback to the designer (which was the most popular of the site) and in a few minutes I received a proposal to remove the negative feedback, having three new different concepts in some minutes, here they are:
Oh well, did not like any of them, but I moved on and made my own logo, you can see it in the header of Melting Brain site.
Next time, I will talk about some adjustments I am making on BrayGames theme and some effective ways to promote a brand new Flash gaming portals.